Tiananmen,
one of Noodler's so-called controversial releases, is named after the
Tiananmen Square incident
happened in June 4th of 1989. The first time I heard about the ink, it seemed like an instant must-buy as name was too funny (it's like a classy way of saying "CCP, in your face!") and the descriptions "rich, blood-mixed-with-dirt" was deliciously intriguing to me, when I read the various blog/forum reviews.
I soon ended up with a whole bottle from Amazon, under the impression that it would evoke some nostalgia or at least some sentiments. I mean, even if it's not traditional Chinese inspired (you can call that oriental?), a bloody ink still sounds bloody wicked.
The packaging is standard Noodler's (with 3oz bottle that's filled to the brim). Right below the brand name, there is a line that reads "One day, China will be free!" I find the familiar expression a little patronizing, like "One day (insert name of third world country here) will be liberated by us American".
Color:
Tiananmen is a rich burgundy with a cool, but not yet purple undertone. A full on swab looks rather luscious and almost a little brownish. Once diluted (while I soak the nib unit) or when it gets on my hand, I can see an apparent bright raspberry pink tinge. The stain (on skin) is rather similar to that left by carbol fushin. Ever spill stain allover yourself in microbiology lab, or am I just super clumsy?
Tiananmen behaves differently
on different pens
: On fine nib (Asian fine/extra fine) sizes that lay down a solid line, it appears true to its burgundy shade, on anything that offers a broader and spread-out line, it can either look like a watered-down muddy pinkish red (Lamy Safari F) or a slightly brighter raspberry red (Sailor Sapporo M).
Noodler's Tiananmen with Sailor Sapporo Medium Nib - Pressure exerted constantly as I write.
As an OCD scab-picker and a grown-up with 2 X-chromosomes, I am constantly reminded of how blood looks like. Tiananmen doesn't remind me of that, which is either duller (blood clot), more purple toned (de-oxygenated) or orange-red (oxygenated). Nor does it looks like anything from the
traditional Chinese color palette
(guess I shouldn't expect it to be). If anything, the combination of pink, red and a little brown is just reminiscent of rose petals on the verge of withering. Pretty, but I am not sure what does it has to do with Tiananmen Square and what happened in 1989.
Intensity/Shading:
Again, this depends on the pens but overall, it has a medium to somewhat high opacity and the shading is noticeable, just not a defining quality of the ink. Personally, I wish it a little more intense.
Flow/Lubrication:
On finer nibs like Pilot fine, extra fine (and even Sailor Medium) it seems so dry that I need to actually put pressure on the nib to get an even line. On Lamy fine it writes properly but I don't like the muddy-pink-red it comes out as. After many tries, I found that the only nib/pen in my collection that work with this are the Ohto F-Lapa and F-Spirit (they have the same nib and possibly the same feed), both lay down a solid burgundy line (
Iff
, freshly inked and used consistently).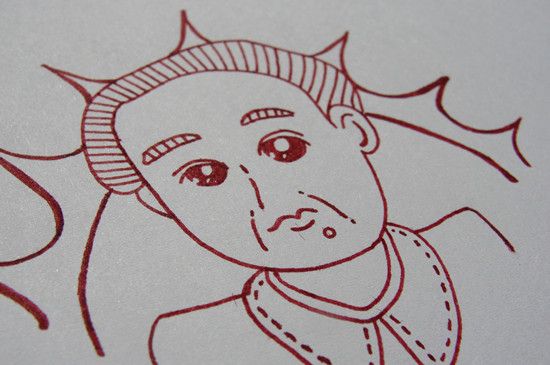 With Ohto F-Lapa Fountain Pen on cheap sketch book from CVS - Chairman Mao is not impressed
Dry Time:
On paper (especially smoother one such as Clairefontaine) it takes a good 20-30 seconds to dry comepletely, similar to Noodler's black. However, the dry time inside a pen is impressive, the nib drys out if it's not used for 2-3 days.
Tiananmen with Sailor Sapporo- Normal writing (no pressing). See how dry and muddy the lines look?




Feathering/Bleeding:
As long as I am not using those fibrous cheap paper (that CVS sketch book) or pressing too hard, there would be little to no bleed through or feathering. The catch: It's so dry that I kind of had to press hard so show-through is almost inevitable.
Water Resistance:
Half of the color survived the drip test (so your handwriting could be still legible after some contact with water) but I doubt it would make it through a soak.
Overall:
I find the physical properties of Tiananmen undesirable (the worst out of the 6 bottled ink along with various cartridges I have tried) even though I do like the rich rose-petal like color, the issue Nathan Tardiff choose to shed light on and Noodler's brand philosophy in general. Anyway, I fail to make the connection between the ink and the historical event (color perception is rather personal so my views are different from that of everybody else). To me, the naming is simply controversial for the heck of being controversial.
Lesson learned, I will be sure to stick with their standard bulletproof range and steer clear of all the special editions (their latest Qin Shi Huang, an acidic red that flashes under UV, has gimmicks written allover it).
Complete hand-written review of Noodler's Tiananmen