Back in January,
Quo Vadis Blog
hosted a giveaway for the smaller
Clairefontaine collection 1951 notebook
, I ended up being one of the 33 lucky winners. A few days after the announcement, this little notebook arrived in my mail (courtesy of Sunny from Exaclair). Look, they even picked the one in red coral, which is my favorite color when it comes to lip products!
The smaller size measures 9x14cm ( 3 1/2 by 5 1/2 inches) and contains 64 pages bonded by staple (that I can't see or feel), according to most sellers. The cover is harder paperback and has a nice texture on it. The color actually gets rub off somewhat easily (if you just toss and let it roll in your bag) so I seal the hinge and sides with some clear packaging tape instead.
Many have raved about the Clairefontaine paper so I will try to keep it short: The 90gm paper is thick-enough (with barely any show through), smooth (not in a waxy-film kind of way) and shows the shading of inks wonderfully. The dry time on this paper is slightly longer (compared to cheaper, more fibrous ones) but that's to be expected.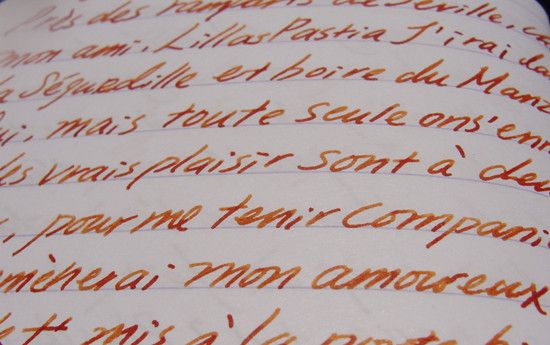 The smaller size is perfect for poems. Since I haven't memorized any aside from the ones sung in choir, I use it to write down opera arias (The above writing was Seguidille from Carmen) I like. I also use it to jot down to-do, to-draw and what-should-I-buy-next lists. Maybe I should get another one as a flash-card type of notebook, since the bright coral gives me good mood whenever I take it out.
Obligatory Plug - Seguidille performed by Agnes Balsta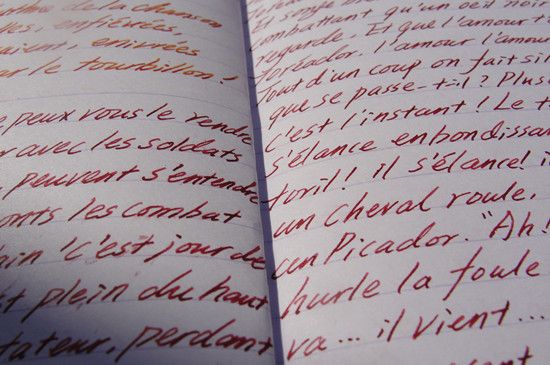 Writing was the Bullfighter's Song. Smudges courtesy of Noodler's Tiananmen.
Overall: I really love it and 3 dollars is such as great price for it. Now I just need to find some translucent plastic paper to wrap it (Back in elementary school in China, I used that to wrap the book I want to care for, like a baby).