Violet flowers - I think these are called field pansy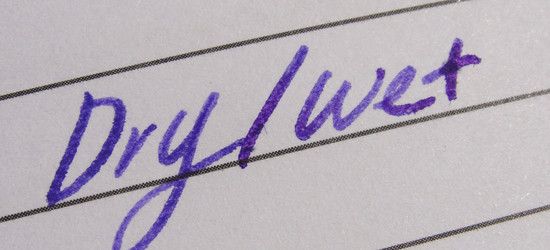 Color/Intensity - Diamine violet is a medium-deep purple with a bit of a blue lean. As it's drying, the ink shifts from a mid-tone purple to a slightly fainter blurple (and stays that way), not unlike the gradation on the field pansy. The color is not too bright, deep enough to be easily legible but it doesn't have inky/blackened quality to it.
Shading- with a medium nib (Sailor Sapporo H-M, which kicked Lamy F out and became my default writer) the shading is noticeable but just not in a mind-blowing way (purple-blue shift doesn't count).
I suppose everything shades better with broad/wet/italic nib but I personally like using fine-medium for ink review. Not only they happened to be my most-used nib, they are also pickier on the inks.
Comparison between different purple pens within my reach.I have no clue what the shade names of the two Sakura pens are. The metallic is from a set and I guess there is only one purple in the Pigma Micron collection (boy I love that one, both the color and the pen itself)...
Flow/Lubrication: Pretty good, it comes out from the nib just by itself and even though it doesn't give me a detectable lubrication/slippery glide (like the Sailor black cartridge), it's smooth on all sorts of paper I use.I notice that some of the purple color has shifted through the piston to the other side of converter (so it flows so well that it leaked?) but since the Sailor one can be taken apart so it didn't really bother me.
Water Resistance - Diamine Violet is one of the better partially-waterproof inks, retaining 60-70% of the color after a drip-and-wipe test. It's interesting how the reddish tone also gets revived while part of the blue washes off.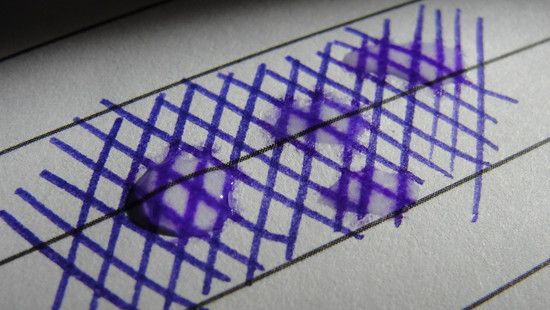 Dry Time: It's slow-drying but not annoyingly wet (on the bright side, you know it's OK to flip the page when the color stops changing). This particular ink-pen-nib combo takes 10-15 seconds to dry on normal/cheap paper and more than 30 seconds on Moleskine, where the surface is too slippery and a lot of ink ended up sliding out.
Verdict: Diamine Violet is a well-behaved ink with an nice and unique (enough in my stash) color. I love the sample but I am not sure if I am ready for a giant 80ml bottle.
Complete (still short) writing review of Diamine Violet