Does the world really need another review for the famous Pilot G2 Ink Gel pens? Not really but I will go ahead write one anyway. Anyway, I almost have a rainbow of those so I might as well talk about the shade difference a bit.
General information: The Pilot G2 Ink Gel Pens are around 1.5-2 bucks a piece and available in places like drugstores, Target, Walmart. Smaller drugstores offer slightly less color option (the black and blue are always there and I usually see some pink breast-cancer-money-grabbing corporate ones) while Target has more color available in pack. I buy (more like stock when they are on clearance) my normal colors from drugstores and got the "fancier" lime green and burgundy ones from
Jetpens
(it just seems much more economical compared to buying a whole pack).
The pen comes with tough clear plastic, firm color-matching clip and a cushy rubber grip. The darker ones (just the grip) can become a dust-magnet over time but otherwise the pens hold up really well under wear-and-tear. All six of my G2s are 0.7mm (I have seen finer and broader points available) and they are generally smooth and a easy-writer that's compatible (ie, not too wet or slippery) with my handwriting. However, there is some mild difference across the shades.
Black - This is the smoothest and wettest of the bunch (which means it's also slow drying/smear-prone and get used up more quickly than others). The black is nice and intense on normal paper but a little ball-point like (pale in the center dark on sides) on smoother, fountain-pen-friendly paper.
Blue - More of a rich blue black with a tad bit of teal. Nicely shades and just a little drier thus more user friendly than the black. This is probably my most used pen-ink-combo before I rediscovered fountain pen.
Green - Very even medium leaf green that's the perfect wetness (a little dryer than compared to the blue one so there is no mini pool of ink where the stroke starts). I would use it more often it the color is considered normal/official.
Lime Green - Crisp yellow green that's probably cleanest one (more confined/doesn't spread out as much as the other) and driest (relatively speaking). Personally, I found it easy-on-the-eye enough for daily writing and excellent for adding onto or underlining notes.
Burgundy - Another moderately dry/wet with good intensity. Due to the darker color, this seems more uniform in stroke intensity compared to as just as nice to use as the green one.
Red - This one has the lightest gel color that's see through from the tube, on the paper it's vibrant but not too light orangey-pinkish-red. This should be bright but reserved (not too loud) for grading/ self correcting school work. I imagine Diamine Strawberry ink would look something similar.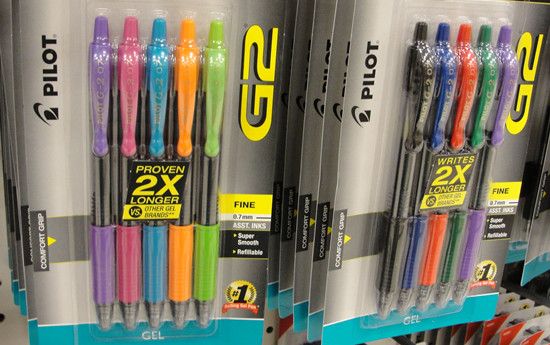 Packs available at Target (no burgundy available though). I think I will buy the purple/turquoise/pink/orange ones later, just to complete the set.
Writing sample of Pilot G2 - See how the black already smeared?