Sailor Jentle Ink in Peche
is a powdery pink with a lilac undertone. It's reminds me more of magnolia petals than those of peach blossom though. The ink seems to have a watery consistency that's not well-flowing at all (since the slime it formed clogged my fine nibbed Pilot 78G, not sure if it's the ink or the weather here) after switching to a Lamy Safari Broad, it's still not that wet.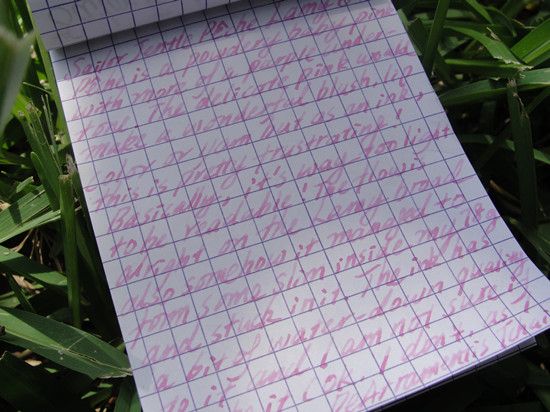 Even though the color is romantic and unique, it kind of shocked me how faint the color is, to a degree that it's unreadable unless you use a very wet pen (I only use broad for drawing). You would think this would be perfect for love letters...But no, your crush will have difficulty reading it. Anyway, the ink doesn't feather and the water resistance is actually pretty good, as only 20% of the pink got washed away after a drip-and-wipe test.