Is it the perfect time to review
Hero 616 fountain pen
(June 16th and Father's Day)? Hero 616 is very popular among fountain pen newbies since it's known for its smooth nib (if there isn't any quality control issue...) and the ultra-low price. My cousin got it for me at a stationery store at 6RMB (1 USD) a piece and they were brought to me by my friend's mom (who traveled here to visit her).
We are all pretty familiar with the appearance, as it's a blatant copy (even down to details like the feather on the arrow clip) of Parker 51. The cigar shaped body is made of very light weight (much cheaper type, even when it's compared to the Pilot Petit) plastic that's easily scratched.
The brand name (in Chinese) and model number is etched on the metal lid (the most substantial part of the pen), which is friction fit and doesn't contain inner sleeve (a good thing, since the more parts the more easily it comes apart). There is a rough hole on the end of barrel which would stop the pen from being an eye-dropper.
The grip (more like the whole body) is streamlined and very comfortable to hold, despite it's light weight. There is an clear ring of ink window, which in addition to show case the crappy craftsmanship, also let kind of let you know, right before the ink runs out. So, I find it a little pointless...
The pen has an aerometric converter that's made of a smooth clear sac covered with a metal part (for you to squeeze), it holds quite a bit of ink after a full fill (be sure to squeeze it 3-4 times to minimize air bubble) and actually let you see how much ink is left, once you open up the barrel.
The black gunk on inside is dried up Noodler's Black...
Now comes the heart of the pen- the nib. The steel nibs on all three of my Hero 616 is stiff but writes smoothly and evenly on the paper. Smooth is probably not the right word as it gives quite a bit of tooth (and pleasant kind of nice), while at the same time, the nib is wet and lays down an intense (more so than other pens), wet and consistent line. In a way, it feels like writing with a good porous point pen like Sakura Pigma Micron pen.
The stiffness and the tooth are not bad things at all, as it gives sharp shape and form to Chinese character. The characteristic called 出锋 in Chinese (there is no English translation, as such concept doesn't exist in the alphabet). Bottom line, the nib is neither scratchy nor slippery but it's a great writer.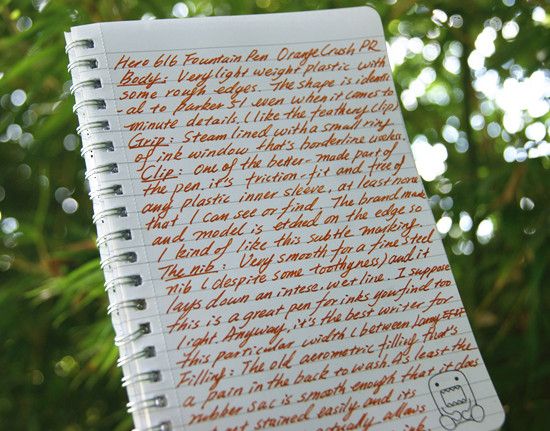 Hero 616 Writing Sample with Private Reserve Orange Crush - a watery ink that bleeds quite a bit on this cheap paper (so each line seems broader the unmarked nib is between a Lamy EF and Lamy Fine). Sometime I just feel like using cheaper paper as the traction makes writing easier (to me, smooth paper + smooth nib = writing on melting snow).
Lastly, something that you can't really escape with a Hero Pen: Quality Control issue. Luckily all three of my pens writes perfectly (something you should not count on if you buy it online). The only dud has a grip section that became loose (it's supposed to glued to the feed) a few days after I got it. When I twist it close completely, the nib becomes misaligned...Now we know what the nib and feed look like.
Overall: Beside the quality control issue (which is pretty big thing for me, as I have rotten luck). Hero 616 is an amazing writer (not just for the price) with an impressive nib. It's a nice little thing to toss in your bag (not entirely sure how reliable it is, ahem) that's also a joy to write with. I have no plan to ditch my other pens for a hundred of these because...A good pen is far more than just a smooth-writing nib.