According the good old Google, Dri Mark is an NY-based company that also does decent-quality promotional products. A friend of mine got a bunch of these mini highlighters in her semiannual stationery haul (also known as the career expo) so she gave me two packs these. The four tiny highlighters are quite solid and they are completed with matching lid and a clip that seems a little loose (who clips a mini highlighter on his/her shirt anyway?).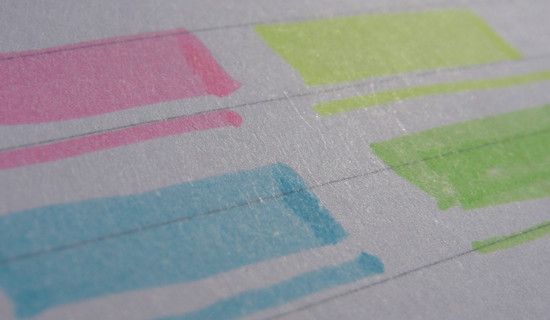 Each of the markers has a conical tip that allows you to both highlight and underline and text. The cones are actually a little concaved so it requires a tad bit of a pressing to get a solid block of color. On the other hand, underlining is easy and hassle-free. The ink is a little sheerer so it wouldn't be as glaring on the page while putting on the accent.
The main selling point of these highlighters are the dry time (which they delivered but I assumed it's just because the tips are drier) but the ink smears up fountain pen inks...So, that's the end of the story.