All I have is "Eau de Texas"
Continuing on with the Diamine ink sampling - Eau de Nil is a medium-deep (the shade is on the deep side while the ink has a medium intensity) dusty teal with quite a bit of green to it. The shade is rather moody, as it reminds me of the cover of Harry Potter and the Order of Pheonix (published by Scholastic. I remember the Canadian one has a different cover illustration that I don't like as much).
Diamine Eau de Nil with Ohto F- Lapa Fountain Pen
Like the rest of the Diamine inks I have tried, the flow is good and it write smoothly for an ink with such watery consistency. I experienced a little bleed-through and feathering with Moleskine and cheaper paper but none on Rhodia. Shading is good (only on Rhodia) but for some reason, I prefer it uniformly deep (a sheer layer dusty aqua just makes me uncomfortable). Water resistance is decent as the writing is still legible after a 10-second smear. Basically, the paper falls apart before the writing does.
Overall: A well-behaved ink (most deep ink bleed/feather on cheaper paper anyway). The color isn't quite my thing as I prefer something a little brighter, more opaque and teal that are more blue-toned.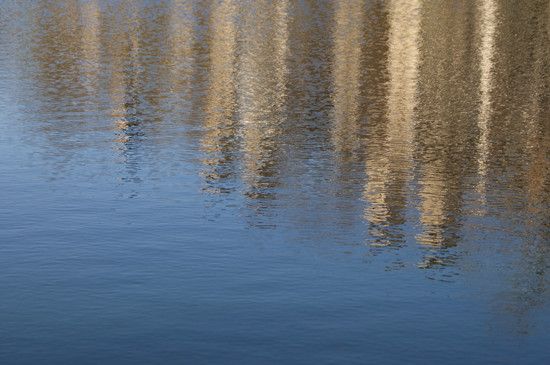 Another picture of the lake, just because...