This is is one of products so popular that it has been reviewed by pretty much every single pen blogger. I have had one (then I bought another one) for almost two years, I might as well chime in and join the chorus of praises. I will (try to) keep it short though...
Pentel Pocket Brush (around 16 bucks, I bought my first one with a half off coupon at Michael's then got another one while it was on clearance for 75% off ) is a compact, portable nylon-haired brush pen that mimics the Asian calligraphy/tools.
The pen's body is light weight but seems rather tough, beside some minor surface wear, there hasn't been any damage or scratches for the 2 years I have owned it. The cap is sleek-looking (with a rounded top and a resilient, easily-to-use clip) and gives a satisfyingly crisp (sounding) and secure clip.
Pentel Pocket Brush Pen has a feed and opening inside that takes their proprietary cartridge, making it more convenient and portable than the real thing (it's just that Pentel cartridges are somewhat expensive). The nylon hair itself is already resilient but the thinner bunch (with a tip that's very tapered) of hair makes it very bouncy. As a writing tool, I find the tip a little difficult to control (so it's not as suitable for Kaishu, a more straight, even type of Chinese calligraphy).
Not sure what style it's supposed to be so I guess I will just call it normal Chinese handwriting sample
However, the resilience gives it a great flow so not only it's great for speedy doodling, it's also quite nice for Chinese cursive writing (aka passing my chicken scratch off as "free hand brush work"). Anyway, I like the ink, it's not too black but flows well and dries fast. I have tried syringe-fill the empty cartridge with Noodler's black but for some reasons it doesn't get drawn up (Maybe the ink is too viscous?). Anyway, I just ended up eyedropper-fill one of the two I have, with diluted ink to practice/get used to the pen. The method is inspired by one of the favorites after-meal activities of retired Chinese males: Mop-Water calligraphy.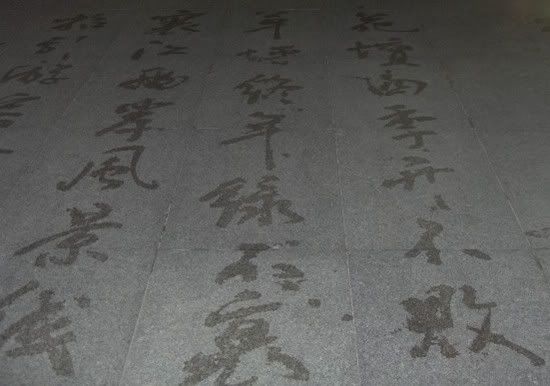 Mop-water calligraphy on a plaza tile by some random middle age (or old?) man in my hometown.
Lastly, here is side by side comparison of Pentel Color Brush in Black (which is closer to the real deal) and Pocket Brush Pen. Overall: It's a great drawing/doodling tool and the only downside would be the the expensive and not readily-available refill (the cartridge get used up very quickly).