After having purchased several budget-range fountain pens from Pilot, Lamy and Ohto, I reckoned I have played around enough and it was time to venture into the standard price zone (100 dollars is "standard"...according to FP geek. What have I gotten myself into...) More specifically, pens with gold nibs.
At first I was thinking about the ones by Hero but I wasn't too crazy about the appearance, not to mention I have been a little wary of Chinese pens, from my past experience (Long story short: Got five Chinese pens for the past 8 months, none of them writes properly, three of them just would not write period). In the end, I decided to settle for a Sailor, as I always have a thing for their nibs...
I ended up getting a Sailor Professional Gear Slim Fountain Pen (aka Sapporo) with purple body and 14K hard-medium nib (as a Christmas present to self). As soon as I opened the cushioned navy colored box, I was transfixed by the its beauty: Glossy purple body, delicate rhodium trim (I just don't like gold) and look at the etching on the nib! The first impression was wonderful as this was/is everything I imagined an "expensive" pen to look like.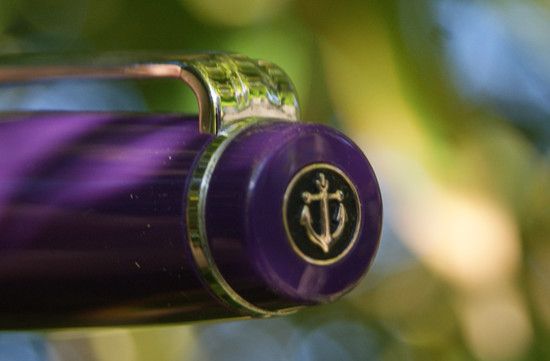 On the top of the cap, there is their signature anchor, which seems to be made of metal and filled with black lacquer. It's the perfect finishing touch for the whole design and I can't find a better way to place the brand logo. The clip is rather firm and has a small slit-like seam at the bottom, which can catch on some loose thread and break them as you pull the pen out. Thanks, I now have hole on my shirt and fiber stuck on the grip.
The pen body is made of PMMA resin, a rather solid material that can withstand some surface scratches (though I make an effort to baby the pen). The color is still dark and glossy enough to be a sweat/dust (mainly dead skin) magnetic though, a friendly reminder to my fellow salamander-handed fountain pen users.
The Sapporo measures 12.4cm long and 1.7cm wide, it's noticeably shorter than most standard sized pen (even compared to gel and other drawing pens) but it stills retains its substantial, full-sized look. Since my hands are somewhat small, it's the perfect dimension for me. The build feels solid and weighty, just heavy enough to rest naturally in my hand without causing any fatigue after hours of note-taking.
The barrel of Sapporo is long/heavy enough to be used un-capped but since it's so well-balanced, putting the cap just adds a bit overall weight on the grip and makes it sit more securely. The grip section is simply round (the one I like the best...I don't get the thing with the ergonomic grip), nice to hold but it's noticeably shorter than the grips of most other pens.
The tipping of the nib is not spherical (not a 360-degree writer) that it writes optimally when laid relatively flat. When you are just grasping to the short black part, you are "forced" to write with a bigger angle, giving you an illusion that the nib is dry, skipping and scratchy. The solution is quite simple - just hold it near the thread. The pen rests on its own weight (not intentionally holding required) and it doesn't cut on skin anyway.
When I bought the pen from the Japan-based dealer Okazaki Taizo
(Engeika) - I also got a set of 2 Sailor proprietary cartridges in black as well as a Sailor Converter (which I filled with a purple ink, for matchy-matchy purposes). The converter has a miniscule reservoir of (what seems like) 0.5ml and the cartridges holds approximately more than double that amount.
Finally to the nib - There are many things going on: Some squiggly design at the side, a stamp of 1911 (the year Sailor Pen was founded), their Anchor logo, 14K, 585 (The gold content in percentage, 14/24 = 0.585) and a printed brand logo at the bottom. Everything is strategically placed so the design doesn't feel crowded at all. The nib (actually, the whole pen) is so beautiful that I feel like take it out and take as many glamour shots of it as possible...I have already slept while holding it once. lol. #NibCreepBehavior
The H-M on the side just stands for Hard-Medium. Even though the nib feels rather stiff, the tip is wonderfully smooth and lays down an even and wet line (given that you are not holding it with a big angle). I personally find it as a better writer compared to Lamy Safari (the broader nibs are nice and smooth) , the two pens probably have similar smoothness level on the tip but Sapporo is better-balanced (thus requires less pressure) and there is a little bit of tooth to it (not scratch) that makes the stroke none-slippery.
A very short (only wrote a paragraph) writing sample of Sailor Sapporo Medium Nib with the included black ink cartridge. The cool (as it has a blue undertone) black is intense, free-flowing, easy to clean and lubricates better than J. Herbin. There is a wee bit (when dripped, 30% is still legible) of water-resistance but it's nothing you should count on in a rainy day.
Overall:
Perfect size and proportion (for my hands), beautiful design and the nib is a joy to write with. Now I just need to save my pennies for the
Hello Kitty edition
pen...
P.S. It was purchased
here
(Ok, I got it from his eBay store engeika but it's currently not sold there), the service was pretty good and the price is very competitive, just be patient with the processing time.