Ohto (a lesser-known Japanese brand that specializes in roller ball pens and mechanical pencils) F-Spirit Fountain Pen is one of the most affordable non-disposable fountain pen in the market. It didn't take me long to make the buying decision as there are so many positive reviews on the
Jetpens product page
.
The pen as a whole is solid and substantial (not so much that it becomes a burden to hold) as it's made of metal barrel with some sort of resin (or lacquer?) over it. I am not too crazy about the cigar shaped design, since it not only screams 50+ year old corporate lawyer (another way of saying that it looks kind of expensive), it's also a little too big and heavy for my small hand.
The lid (along with the rest of the body) is also solidly constructed (with metal inner cap-like thing) and shuts a little too securely. The weight-per-length is consistent with the body so it doesn't throw the pen off-balance once posted. The model name, number (printed on the other side) and country of origin are printed by the edge and it didn't take long for me (the OCD scracther/peeler) to get it off. There is a ball at the end of the clip which is suppose to facilitate the attachment. However, the clip itself is so stiff that so the ball barely helps.
The pen's grip is made of a different material than the body, it appears rubbery but feels more like a really hard compressed plastic upon closer examination. So...I still have no clue what it is but at the very least, it's comfortable to hold.
Ohto F-Spirit comes with a steel nib that's colored gold and decorated with some squiggly patterns. On the nib it reads "Iridium Point Germany", which according to members of FPN, probably means that it can be made anywhere in the world (most likely China). I suppose the feed is made in somewhere else...since 14 (any number that contains 4) is an universal unlucky number for the Chinese.
The nib itself is hard/not springy but is a nice and smooth writer that works straight out of the clear plastic wrap. Even though it's labeled as fine nib (only size available), it's between a Lamy EF and F and runs slightly thicker than a Pilot medium. One thing I really like about the pen is that the feed offer a really good flow (with more viscous ink) and at the same time, lays out a concentrated line that's not to spread-out/watered down (when used with watery inks like J. Herbin). The only minor problem I had was some skipping when I switch ink (without proper cleansing/rinsing/drying) but that was quickly resolved as I found the cause.
Ohto F-Spirit takes the standard international cartridge and a new pen comes with two of these by Ohto. The Ohto black cartridge behaves nicely (and has a small plastic ball inside the cartridge to help stirring in the ink) but doesn't have any water-resistance.
If it's actually still available for purchase, you can also use the Ohto (actually made by Schmidt) converter that only costs $1.65. The converter looks like it has a big ink capacity but it's just the a trick played by the thick plastic, it hold similar amount of ink as the cartridge does, which is around 1ml.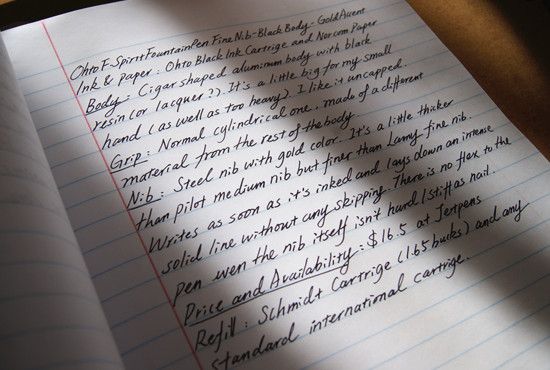 Writing sample of Ohto F-Spirit Fountain Pen with the included Ohto Ink Cartrige
Overall: Not a fan of its appearance but there is no doubt that it's a great writer.