Being a big fan of Pilot, the color green and cute appearance, it was a love-at-first-sight when I saw
Pilot Petit1 Fountain Pen
(at
Jetpens
...where else). Since I already have a few other items in my to-buy list, I went ahead and ordered it immediately. After all, it's a 3.8-dollar fountain pen and it's green, what can possibly go wrong? It sort of did...and I am not even certain that if I call it a fountain pen.
Pilot Petit1 is a small pen that's tapered off on both sides (Petit2 and Petit3 are respectively, marker and brush pen in the same body). The pen measures 11cm and 14cm when capped, just enough to be held comfortably.
The body is made of clear plastic that seems rather tough, able to withstand quite a bit of pressure (maybe just a little less solid compared to the Pilot G2). The cap has a secure snap closure and an inner sleeve to either prevent ink spewing/evaporation. The clip is slim has a bit of resilience but I didn't dare to pull it out too far (as it seems like it could break easily). At a glance, it looks quite solid for such a low-budget pen and definitely not like a one-use product.
The nib of the Petit1 is a simple one make of steel in fine width (which is pretty consistent with the Pilot fine on 78G), the ink comes out freely, evenly (so even that there is no line variation what so ever) without much pressure. However, it does scratch quite a bit on most paper I use.
One thing I notice immediately is that there is a white cord running through the pen's capillary, leading straight to the tip of the nib. The ink dispensing is very much like those felt-tip or ball point marker, it makes me wonder that if there is ink diffusing through the nib then being released at the slit, does it still counts as fountain pen? For me, it feels like an ink pen with a steel point, lacking the satisfying sense of ink flow (I am not certain if my hand can detect movement like that so it could be purely psychological).
The pen only takes the
cartridge specifically designed for the Petit
range and I really like the apple green ink. It's watery (flow well and gives subtle shading) without being too light/unreadable and the color itself is spring-like, bright but never in-your-face. It's something I would totally buy if it comes in bottle. The property is pretty similar to the Pilot/Namiki ink cartridge, which means that it also stinks a wee bit when you sniff the nib directly.
Overall: For a pen lover, Pilot Petit1 is a great little writer for a great price. The built is solid and writing is consistent. However, as a fountain pen lover, I can't bring myself to love it as it lacks the "temperament" (it just doesn't feel like one to me), and since it only takes Pilot cartridge and I am more of a bottle ink person. I would not be repurchasing either the pen nor the refill.
I guess I could use syringe to refill it or convert it to eyedropper but I am not sure if one can clean that cord in the center. What's the use of a fountain pen if you are chained to one ink color for the rest of the pen's life?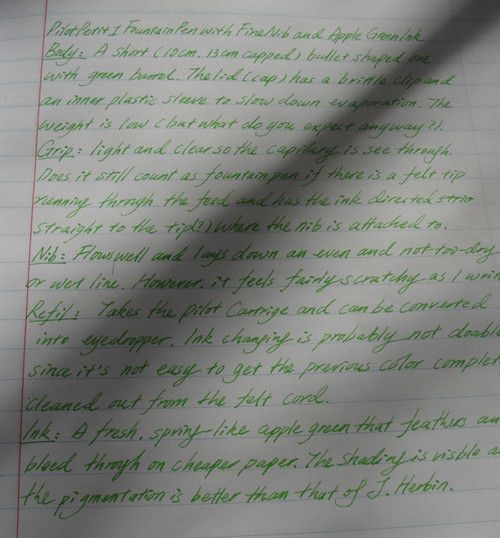 The complete (and incoherent) written review.