Vert Olive is the one of the first J. Herbin Ink bottle ink I have (OK, I only own two at the moment) and luckily, I didn't have to go through any internal struggle while I was picking it out (they do have a handful of greens in the line up)...Because this was the only green that wasn't sold out at the time.
Each bottle comes with 30ml of product and retails for 9 dollars at
Jetpens
(where I bought it from) and 8.91 bucks at
Isellpen.com
(where they also offer some "official" shades like black, blue and purples in 100ml bottles for 18.75). There is a little groove in front of each bottle that works as a pen rest. I suppose it would be perfect for testing out ink with a glass dip pen but the groove it's too narrow for most of my pens.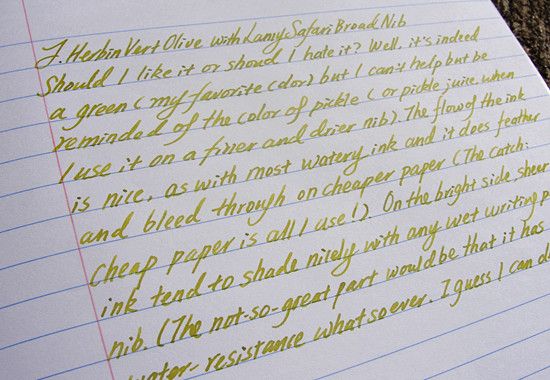 Vert Olive/Olive Green is a golden yellow green that is "not unlike olive oil", according to many reviews. With a heavy swap or a very wet nib (like this Lamy Safari Broad), the color is rich, warm and comforting but since normal fountain pens leave out a much thinner/drier line, I usually get something that's a little lighter, browner (like I am writing with pickle juice).
As with most J.Herbin inks (which have medium to low intensity), this does shade nicely with wet nib. At the same time (as expected with watery inks), this flows very well, dries quickly and/but has no water resistance whatsoever. Since I am a cold-soda addict with a cluttered desk (more like cluttered room), I always found my entire note page smeared off completely where I have placed a cold glass/plate on top of this.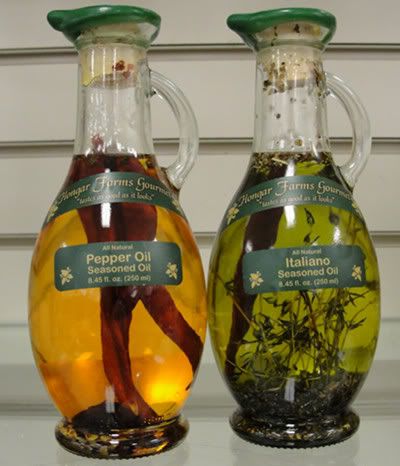 What I think olive oil should look like (yes, I am aware that olive oil comes in all sorts of colors)...
What Vert Olive reminds me of...Watery, light and with a strong yellow/brown lean.
Overall:
I am on the fence about this one. This is certainly a very unique-looking shade that you don't come by very often (I have only seen one other pickle-looking ink, which is
Wagner
from Diamine's Music collection). Under yellow-lamp/by the candlelight, this looks luscious and warming, beautiful enough to make me overlook all the...pickle-ness. On the other hand, this is too light to be legible on most pens I use (I prefer fine nibs for daily writing) and the water resistance is a bit too low for my clumsy self.