Back in summer of 2012, Uni (Mitsubishi) released a
collaboration collection
with one of the daughter brands of Japanese cosmetic giant Shiseido, Majolica Majorca (frequently abbreviated as MJ). Being a lover for the MJ visual and a cheapskate (MJ isn't too affordable being a drugstore brand), I reckoned it was the perfect opportunity to get a dose of the princess cuteness - In the form of stationery.
There are quite a few options (including some multi-pens)and I just went with the Style Fit Slim Ink Gel Pen in lime green, with a 0.38mm point. Well, it's green (the color that never goes wrong for me) and it matches something that I already have and love...
It's not hard to tell that the apple green is designed to match MJ Puff de Cheek in Cherry Macaron (released in the same collection but not as limited edition, but an addition to their permanent line up), with the same color theme and the green/white stripes.
At the end of the slim pen barrel, there is that golden emblem of MJ. Overall the print stays on rather well (not easily scratched away) but there have been wear around the seam of the pen, as I have been tossing it in my messy bag for the past few months.
The Style Fit Slim has a streamed line grip section that shows the width of the point, it's can be twisted and removed while you replace the refill . The overall construction of the pen is solid but given it's slim built and light weight, it's rather uncomfortable to hold after just a short period of writing.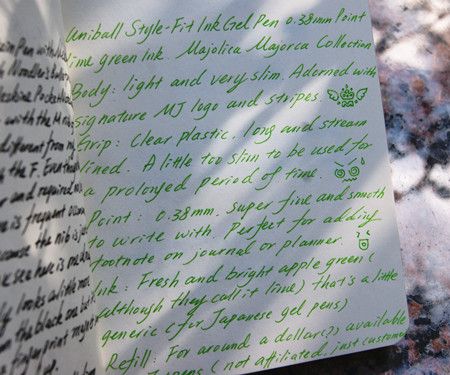 As for the pen/refill itself, I have nothing to complain: It writes smoothly, evenly/consistently and the ink is neither too dry or wet. The lime green ink is bright, happy and totally legible (although the color is a little too generic among different Japanese pen brands) and the fine width is perfect for adding footnote, making cram-it-all note cards and filling small planner.
Overall: Not that great of a daily writer (I use fountain pen anyway) but I do like it.
FYI:
The pen was purchased from
Jetpens
and the blush was purchased from
Adambeauty
(I had happy
shopping experiences from both places).