Yeah...I should have reviewed it along with the black one. This
teal body Pilot 78G fountain pen
was purchased together with the fine nib one at Hong Kong based seller
Stationery Art
. The overall construction is the same as the one I have reviewed so I will just point out the two differences. The teal plastic (which looks a little less glossy)appears a little less sleek (they are both light plastic, how sleek can it be anyway?) but it disguises scratches and palm sweat much better.
The medium nib of 78g is also 22k gold plated (which holds up much better than the gold toned nib from Ohto F-Lapa) and it's not too thick (finer than the fine nib from Lamy), smooth and required no break-in whatsoever. I noticed some (unwanted) line variation with the fine nib of 78G but there is littler-to-none in the medium nib, which I actually like.
Even though this is a smoother writer, I find the nib a little too slippery that it would skip every few lines (or at the start of a line) and after 3 cartridge full of writing, it still hasn't improved...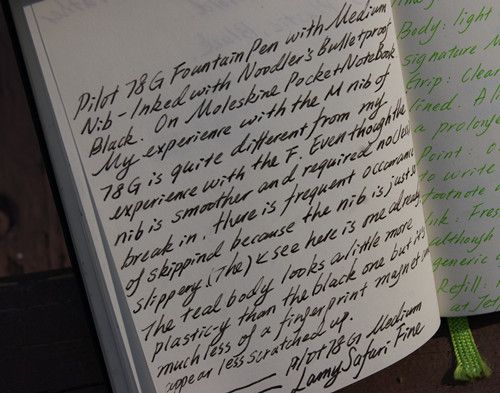 A writing sample of 78G medium nib, inked with Noodler's black. The line come out of this pen seems a little more diluted and gray-scaled (OK, it's also a little deep-taupe since Noodler's Black appears to have a brown tone to me) , which is another eyesore, given that I hate any shading in a supposedly black ink...