Wing Sung 612 with Noodler's No.41 Brown
Despite its rich tone, warm nuance and excellent drawing properties (after all, I still like my ink waterproof), Noodler's no.41 is a lost cause: It refuses to come out on most of my finer nibs (which I use for drawing) and it always gives problem starting up. It even dries out during the pause of writing session.


Lamy Safari EF with Diamine Meadow
This is a second refill (Lamy converters aren't known for their capacities), basically a dream combo for my handwriting...I guess I need a full bottle.

Lamy Al-Star Raspberry with J. Herbin Rouge Opera
Another matchy-matchy one, the ink runs a little dry but the slightly dusty raspberry pink is rather alluring, it's a bright yet neutral writer and surprising suitable for note-taking.


Pilot Penmanship with Noodler's Black
My sure-fire drawing pen. The line is black (not the blackest but good enough for me) and it layers down an ultra fine and even layer. I just hate the grip.


Sakura Micron 03
Just in case I get fed up with Pilot Penmanship's grip and barrel (it already cracked so I need to be extra careful using it). It draws nicely but I prefer how fountain pen glides on paper, seems more spontaneous to me.


Clairefontaine Collection 1951 Purple Notebook
The fancy cover is a little fragile (prone to wear) so instead of using it as notebook, it holds the fancy role of being my libretto keeper. I basically use it to jot down the songs I want to memorize.
The three pencils I had with me. Sakura 0.7 (filled with Pentel lead) for general schoolwork filling. Pentel (bottom) has the same purpose, except with a sleeker body, heavier grip and more comfortable hold. The Staedtler in the middle is more for leaving guideline on drawing.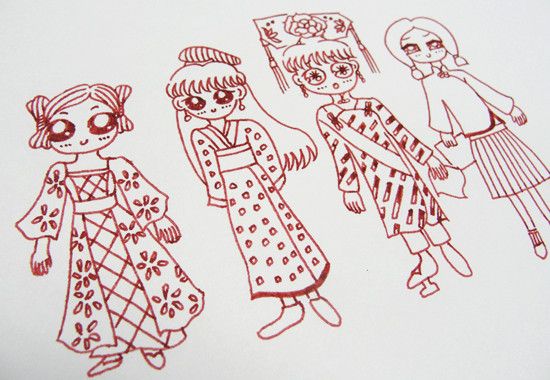 Inked with Wing Sung 612 and Noodler's Tiananmen (need to start using this up) before I switched to the No.41 brown. This combo are actually quite compatible with each other.