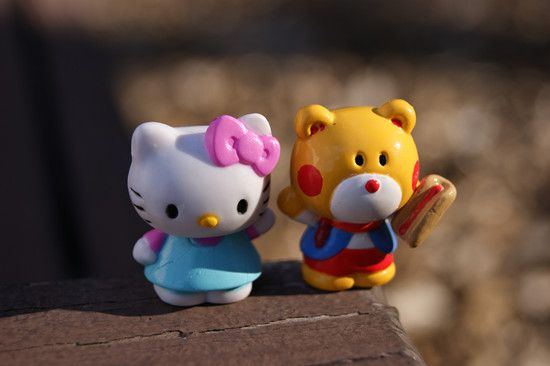 There are plenty of licensed (by Sanrio) Hello Kitty products in the US market and most of them have very poor quality (for example, this pair of supposedly collectable figurine that they charge 4 bucks at CVS). It's as if they think that "Well, since most people who like Hello Kitty are under 8 anyway. Let make some disposable cheap stuff that kids would buy and buy again once they break the first ones!" Anyway, when I spotted the display of Hello Kitty stationery at Michael's, I was really surprised because the quality seems really good.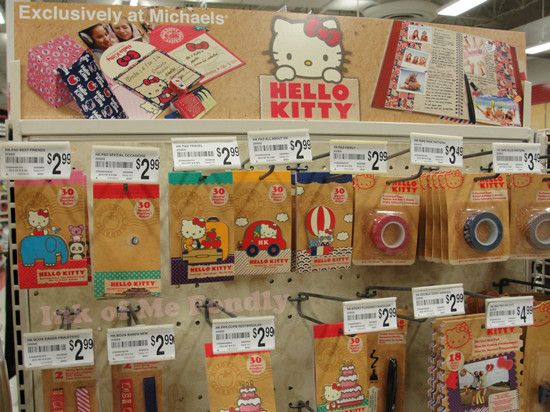 The first row of the display is mini notepad some for personal, family, travel and friends. The pages are illustrated and have some blanks to fill out (like places you want to visit...) and the paper is smooth and thick. Th bad part is that there are only 30 pages and much of the space is already taken by the printing and illustration.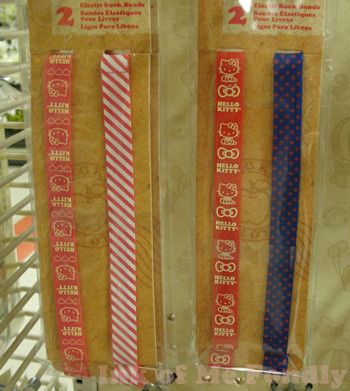 Elastic Book Bands - Can't find a use of it (all of my books close just fine) but I guess they could work as hair bend for those athletic people, the blue/red polka dot ones looks sort of fashionable.
Felt tape with flag pattern and a kitty head ( the best selling one of the three)
Navy one that doesn't look as well-made
Red-Pink (Raspberry?) one. All of these are 3 dollars per roll...(I wanted to use coupon for these but Michael's haven't been issue 40 or 50% off per item coupon since the beginning of the year...)
Small keepsake pockets (yeah, six of them for 3 bucks, sounds like a rip-off to me)...At least they are printed nicely...
Card board for pictures and date stamp and ink pad (will buy if it actually stamps out a Hello Kitty...If not, it would be just another product with HK slapped on the outer packaging)
Cut Embellishment, marker and glue stick and more keepsake pocket
Looks like a scrapbook to me...
Journal (binder-like with removable pages) - Again, they are illustrated and made of nice paper (not sure if they are fountain-pen friendly or not).
Another journal...Beside that, there are also those big book of patterned cardboard paper.
In the front of the store, the Valentine Hello Kitty candy tin (the candy is alright but the make perfect containers for cartridges and converter). A little side note, all the products are made in China, if that concerns you. I personally don't mind as long as they are well-made.